Poster and oral presentation guidelines
Oral presentations
Oral presentations for maximum 15 minutes (including 3 minutes for Q&A). There will be a timer on the podium as a reminder of where you are in the presentation. Please be advised that presentations exceeding the limit will be cut off by the moderators in the interest of time.
Presenters do not have to bring their own computer. There will be a Windows based laptop computer that will be available in the session room. Your presentations (Microsoft Powerpoint only) will be accepted in CDROM or USB Flashdrive form. Computers will be provided to upload presentations and test them in the meeting room. There will also be an technician to help with any technical issues. Participants scheduled for the morning should have their presentations ready the day before, while those scheduled for the afternoon should have theirs ready by lunch.
Poster presentations
In planning a poster presentation it is useful to keep in mind the advantages of a poster over oral presentation. Posters are available for viewing for a full day. Authors and interested viewers have more time for discussion. More posters can be presented in the same time and space than oral presentations reducing the number of simultaneous sessions. There is no first or last presentation on the program. As a general concept, keep in mind that the information should stimulate discussion, not give a long presentation. Planning and experience will make your poster presentation clear, effective and rewarding.
Authors will be asked to be available for discussion during the poster sessions.
All posters will be displayed during the conference day and should be mounted by the presenter at 08:00 am. The poster should be made ini X-banner in 160 cm (h) x 60 cm (w) .
At registration, you will be provided with instructions on your poster location, as well as a number. The number will be on the poster board assigned to your poster.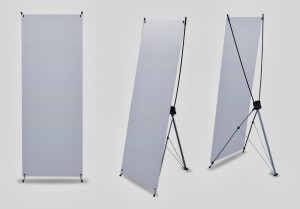 X-banner poster