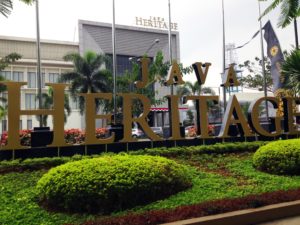 The venue of the conference is Hotel Horison, about 2 km to Jenderal Soedirman University. New information, next August 1, 2016, the hotel will re-brand from "Horizon" to "Java HERITAGE".
This location is in the down town of Purwokerto, Central Java Province of Indonesia. Several popular tourist destination also available such as Baturraden, Owabong and Purbayasa.
Purwokerto is located near the base of Mount Slamet, the second-tallest volcano in Central Java. The city is bisected by the Kali Kranji (Kranji River). It lies near two major east-west roads, Jalan Sudirman and Jalan Gatot Subroto. Its geographic location is 7°26′S 109°14′E.